The Cherokee Effect: Where We Go, Development & Growth Follow
The Cherokee Effect: Where We Go, Development & Growth Follow
Wherever Cherokee Nation Businesses (CNB) operates, there is one guiding principle: act in the best interest of the community. In dozens of small towns across Oklahoma, putting this principle into practice has created an extraordinarily positive impact. What sets CNB apart from other companies isn't just the prosperity it creates for the communities where it does business. It's the long-term partnerships that achieve economic growth and goals for those communities which otherwise wouldn't have been possible.
For many months, CNB has invested significantly in the creation of long-term partnerships in Pope County, Arkansas, as it proposes to open a $225 million resort and casino in the area, which includes a luxury sportsbook, hotel, spa, family water park, outdoor music venue, and RV & dog park. The scope of the proposed Legends Resort & Casino Arkansas is comparable with CNB's most successful ventures, which serve as a useful model for Pope County residents who want to know what's possible in their own community.
One of these ventures, Cherokee Springs Plaza, has led to some of America's best names in hotels and restaurants opening new locations in Tahlequah, Oklahoma. Cherokee Springs Plaza has created hundreds of good paying jobs for area residents and brought in considerable sales tax revenue for the city of Tahlequah. CNB's $170 million investment in this 154-acre retail, dining and entertainment development includes the newly relocated Cherokee Casino Tahlequah, attracting top-tier tenants like Buffalo Wild Wings and Tru by Hilton, among others.
In Catoosa, Oklahoma, a decade ago, CNB partnered with two headlining brands, Hard Rock Hotel & Casino and Toby Keith's I Love This Bar & Grill, to create a superstar entertainment destination. Hard Rock Hotel & Casino Tulsa was an instant success. At the grand opening, it welcomed guests with 350 rooms, five restaurants, a variety of nightclubs, entertainment venues and even an 18-hole championship golf course. The Tulsa World, a local newspaper, wrote that CNB had created a "boon" for the area. Later, another article described it as an "economic engine" for the community.
Partner Communities Soar With New Hotel & Casino
Hard Rock Hotel & Casino Tulsa's success is not a solo act. It is also one of the biggest success stories in all of northeastern Oklahoma. As the hotel and casino have grown, so too has the area around it. Expansion and economic growth are evident in both quantitative and qualitative analysis. In fact, this upward trajectory is so pronounced, we have coined a phrase to describe this phenomenon: "The Cherokee Effect."
Hard Rock Hotel & Casino Tulsa is named for its close proximity to the region's most recognizable city. After a quick 10-minute drive from downtown Tulsa, Oklahoma, to the neighboring town of Catoosa, you've arrived.
As small towns across the country continue to shrink, Catoosa is still growing. According to the U.S. Census Bureau, Catoosa's population was just under 5,000 when CNB first began operations in 1993. Today, Catoosa is home to more than 7,400 people.
Rogers County, where Catoosa resides, has experienced even greater population growth. Just two years after the hotel and casino officially opened its doors, the Tulsa World reported that Rogers County was one of the fastest-growing counties in the state. The county saw a 23 percent increase in population from 2000 to 2010. Since then, the county's population has steadily climbed. In 2018, Rogers County Commissioner Dan Delozier told The Claremore Progress:
"In looking at population growth, these are kind of staggering numbers…We've almost doubled in numbers in 38 years."
Of course, there's more to progress than just population growth. All signs point to concurrent economic growth as well. Commissioner Delozier cited the U.S. Census Bureau's 2018 American Community Survey when he shared that Rogers County has the highest median home value in Oklahoma, at $157,300.
The data is clear: Rogers County households are thriving. The median annual income of a Rogers County household is $61,320, up 2.5% from last year. To put those numbers in perspective, Rogers County's median household income outperforms seven surrounding counties and the state of Oklahoma. On average, the median household income for the state is just shy of $50,000. The county even outperforms the U.S. national median income of $60,336 by nearly $1,000.
Where We Go, Development & Growth Follow
Wherever families flourish, development follows suit. These satellite photos illustrate the area's growth in a way that numbers cannot. As you can see, dozens of new businesses have broken ground. A Walmart Supercenter anchors Catoosa Hills, a multi-phase shopping and dining complex just across the street from Hard Rock Hotel & Casino Tulsa. National chains such as Olive Garden, IHOP and Wendy's have opened new restaurants. Nearby, another retail center, The Shoppes at Catoosa seized the opportunity to build space for tenants as hotels, tire shops and clothing retailers moved to the area.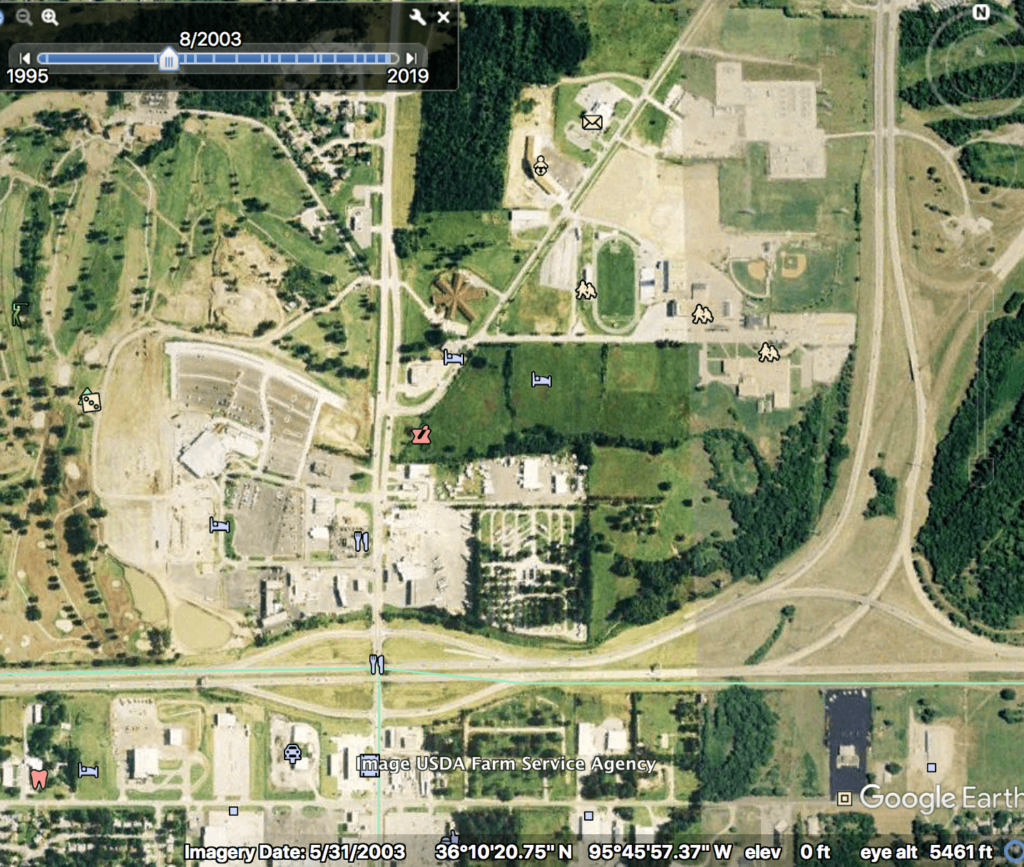 Rita Lamkin was the mayor of Catoosa from 2007 to 2011. She described her time in office as an exciting time for the city.
"Once the Cherokee Nation announced they were opening the casino, things really took off with commitments from developers. [Businesses] finally pulled the trigger." – Mayor Lamkin
Ten years later, the area continues to expand.
Building Solutions With Partner Communities
Sometimes rapid growth can also bring growing pains. Even before development began at Hard Rock Hotel & Casino Tulsa, the intersection at Interstate 44 and 193rd East Avenue caused congestion. Traffic would back up as drivers waited for four or five light changes to get through the intersection. Frustrated locals named it "dysfunction junction."
"Oklahoma Department of Transportation had it on their long-range plan," Lamkin said. "But we didn't have the land or the money to fix it until the Cherokee Nation stepped in."
In 2011, construction was completed at the Catoosa interchange, two years ahead of schedule. The on- and off-ramps were improved and two major bridges were replaced. Cherokee Nation provided right-of-way easements and funding donations which enabled the Oklahoma Department of Transportation to green-light the project.
At the project dedication, Oklahoma Secretary of Transportation Gary Ridley said: "Without the Cherokee Nation this project does not exist."
Lamkin remembers her time working alongside Catoosa officials and CNB fondly. "I enjoyed working with the personnel of CNB immensely," she said.
"When we start working together, you can see aesthetic improvements and economic development. We were working for the betterment of both."
Continual Investments Keep Everything Fresh & Exciting
Since its inception, CNB has worked hard to continually invest and improve Hard Rock Hotel & Casino Tulsa and the surrounding area. In just 10 years, we've added two new hotel towers, a world-class convention space, a luxury spa and a resort-style swimming pool. Our most recent expansion is Track 5., a live-country music venue and dance hall. We've proven we have what it takes to create the ultimate guest experience and have shown we can attract big names like Willie Nelson, KISS, ZZ Top and Reba McEntire. Most importantly, we've demonstrated we can work alongside our partner communities to create an exciting place to work and live.
Legends Resort & Casino Arkansas
Our next great hit will be Legends Resort & Casino Arkansas. This $225 million luxury destination in Pope County, Arkansas, will have its own unique vibe. One part pure energy, one part relaxed escape. Its 50,000-square foot casino and high-end sports bar will bring the thrill of a big win, while private cabanas will invite guests to unwind poolside. Whether you prefer to be pampered at the exclusive spa or rock out at the outdoor concert venue, Legends will offer something for everyone.
CNB has the experience and expertise to make this new development top the charts. Although these two destinations will each offer their own look and feel, we've shown through the last 10 years with Hard Rock Hotel & Casino Tulsa that we have what it takes to create a memorable destination.
When you partner with CNB, expect "The Cherokee Effect." Legends Resort & Casino Arkansas will bring thousands of new jobs to Pope County along with billions of dollars of economic development. If you take the stage with CNB, you are sure to strike a chord in your community as well.